500 Truck Mount By Century 400 - (a Prochem Blazer)

The Next Generation is Here!
When you are ready to upgrade from a portable, the Avenger 500 is the perfect entry level truck mount carpet extractor. Compact, simple design and affordable. Century 400 has been in business for 25 years and is owned by the largest truck mount manufacturer in the world - Prochem. So you can depend that they will be their for you.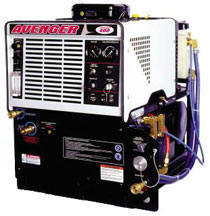 Specifications:

Briggs & Stratton Vanguard Engine - 18 HP
Engine Speed - 3250 RPM

Sutor bilt Vacuum Pump - 3LL at 13" HG
CAT 3CP Water Pump - 1420 RPM
Water Flow Rate - 3.0+ GPM
Water Pump Pressure -1,000 PSI
Waste Tank Capacity - 60 Gallons
Weight -688 Lbs
Dimensions -32"W x 39"D x 33"H
Warranty -1 Year Parts, 90 Days Labor
Standard Equipment:

100 ft of ¼" I.D. Pressure Hose
100 ft of 2" Vacuum Hose
50 ft of Inlet Water Hose
Carpet Wand
Installation Kit
Operation and Service Manuals
CENTURY 400 IS A PROCHEM COMPANY.
THE AVENGER IS MANUFACTURED BY PROCHEM. IT IS A BLAZER WITH THE AVENGER NAME AND A FEW UPGRADES.
SPECIAL $10,999.00 INCLUDES FREE INSTALLATION*

CALL FOR DETAILS
This unit is made by Prochem for its sister company Century 400. This is a Blazer with Century 400 stickers. You get the Prochem product at the Century price.
---
The Dual Wand $20,000 Truck Mount for under $13,500.00
Simple is good: If you ever owned a truck mount before—SIMPLE IS GOOD!. Everything is easily accessible and spaced for easy access—chemical feed is directly through the pump and adjustment through the flo-meter (no chemical diaphragm pump)—no heat exchangers to challenge your waste tank with bypass dumping of hot water or a diverter valve with solenoids and moving parts to perplex your distributor's service department as to what is wrong with this thing! The El Diablo weighs approximately 700 pounds and can be mounted in either the rear or side of a van. A rear installation allows a vacuum hose reel to set next to the unit, leaving the rest of the van open.
Powerful: A 24 h.p. Honda V-Twin engine directly driving a Roots 45 blower with direct 2-1/2 inch plumbing from the stainless steel waste tank to the blower and out of the blower to the silencer system provide maximum airflow and vacuum.
High Quality: Means using the very best components that are industry proven: Honda V-Twin 24 h.p. engine is the best engine in overall performance and torque; the Roots 45 blower is the industry leader in reliability and quietness; the Cat 3CP pump with a clutch is simply the best in the industry. The 75 gallon waste tank is stainless steel and guaranteed for 5 years. The waste tank features an aluminum waste basket for easy maintenance and an automatic pump out option. A 195,000 BTU kerosene heater delivers consistent 225 degree cleaning temperatures.
Here's what you get: El Diablo Carpet cleaning unit with 125 feet of high quality vacuum and high pressure solution hose; 2-jet S wand with 1,200 psi valve; 6 gallon kerosene tanks with kerosene heater
Specifications:
El Diablo Kerosene: 35"W X 46"H X 51"L
Weight: 700 lbs.
- Overview -
Accessories: Includes 125 feet of hoses; 2-jet "S" wand and stainless steel pan
Blower: ROOTS 45 producing airflow up to 400 cfm
Chemical Injection System: Flow meter with pump inlet injection
Disposal System: Optional automatic pump out
Engine Manufacturer/Size/Type: Honda air-cooled V-Twin 24 HP engine
Filtering System: Stainless steel filter and aluminum basket.
Fresh Water Tank: Standard 3 gallon rotationally molded; Optional 100-gallon tank (The WaterWell)
Gauges: Pressure; water temperature; vacuum; hour and engine rpms.
Heat Method: 195,000 BTU Diesel (Kerosene) heater
Holding Tanks: 75-gallon stainless steel
Shutoff System: Electronic float in waste tank; low oil-pressure switch on engine
Solution Pump: Cat 3CP with electric clutch, up to 2,200 psi.
Overview: The El Diablo is a high-quality, high-performance truckmount at an entry-level price. Incredible value. Shop and compare component to component. The waste tank vacuum regulating system is controlled by the Knukle Valve which maintains 14" of mercury. You can dual wand, or have exceptionally long hose runs of 500 to 700 feet, which makes the unit comparable to $20,000 units. The El Diablo weighs 700 pounds empty and leaves significant space available in your van for other accessories.
Limited Time Special !
$13,499.00
*Includes Free installation of Truck Mount
Value of Installation approx. $900.00
Accessories Available At Discounted prices: Fresh Water Tank, Hose Reels, Extra Hoses and Wands, Fuel Kit, Tile Cleaning Wands and Spinners